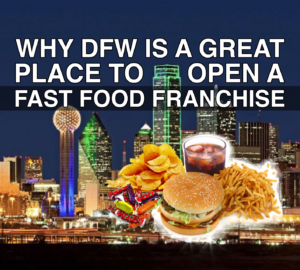 The fast food industry is one that seems to be able to withstand the ups and downs of changing economics. That's especially true when it comes to communities that are continuing to grow, with Dallas-Fort Worth (DFW) a prime example of an area that shows no sign of slowing down any time soon.
A Continued Move Upward
The level of growth that DFW has seen over the past few decades certainly hasn't escaped the notice of those fast food companies that are looking to either enter or expand their business footprint in the area. When they make the decision to come to North Texas, they want to be certain that their fast food construction in DFW is handled efficiently and in a professional manner.
Even with the level of growth that DFW has experienced over the years, there's still a number of prime locations that are available to build upon. Just like any form of real estate, focusing on location when it comes to fast food construction in DFW is always going to be a winning strategy.
Unabated Popularity
Of course, many fast food places still have burgers as one of the staple items on their menu. Texans, in general, have never lost their love of beef, with those in the Metroplex also eager to bite into what various fast food outlets have to offer. That ready-made market continues to develop further, with those who prefer other options also seeing more accommodation when it comes to this business sector.
Economic Assets
In addition, the fact that Texas assesses no state taxes and that the relationship between the DFW business community and both the state and local governments is strong can offer some clear reassurance. Knowing all of these factors beforehand offers compelling evidence of the lucrative possibilities possible, which means that contacting a restaurant construction company to get the process started in the next step.
A Clear Understanding
Using a commercial construction company that possesses a narrow focus when it comes to the type of jobs they work on isn't always the best approach, since their background might be more connected to offices and retail establishments. When you have a restaurant construction company handling these duties, a clearer understanding exists with regard to the planning process.
The design of a fast food establishment will usually involve following a specific blueprint so that the brand and the design become interconnected in the minds of customers. A commercial construction company that doesn't deal much in the area of fast food construction may be used to offering a varied look with its work, which can potentially be cause for friction.
The Best Choice
Stovall Construction has been around for more than four decades and has extensive experience in both areas. They've served as commercial construction company for countless projects in the Southwest and are licensed in 15 states, yet are equally skilled when it comes to making sure that their work as a restaurant construction company stands out as well.
Businesses that need fast food construction in DFW have come to trust the work performed by Stovalls's experienced staff. Their close attention to the budget ensures that cost containment is taken seriously and deadlines are adhered to closely, a time frame that extends from the design process to the opening of the restaurant. Contact us today.