C-Store and Gas Station Construction Company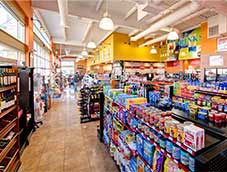 Commercial construction focuses on many different project types and sizes, but successfully building your convenience store from the ground up requires specialized industry knowledge. We proudly offer our services here at Stovall Construction as the region's premier convenience store construction company. You want a c-store that stands out, pulls in business and drives sales, and we deliver with more than 40 years of commercial construction experience throughout Texas, Oklahoma and Louisiana.
Convenience Store and Gas Station Construction Expertise
Unlike other retail construction projects, c-stores incorporate specific floor plans, special equipment and unique fixtures to attract and satisfy customers on the go. Whether you're building a small corner outlet, multiple branded properties or a chain of gas station operations, you want a commercial contractor who understands the business from refrigeration units to fuel pumps. Our expertise covers it all including optimal traffic flow design, on-site security systems and adherence to strict corporate guidelines. We earn our reputation as one of the best convenience store construction companies in the region by designing and building critical function and pleasing aesthetics into convenience stores that generate revenue and deliver the ROI you expect.
Turnkey Solutions: As a trusted c-store and gas station construction company, we offer end-to-end solutions, from conceptualization and design to construction and equipment installation. Our team streamlines the entire process for our clients, completing projects quickly and efficiently.
Cost-Efficiency: Stovall Construction prioritizes cost-effective construction methods without compromising quality. Our premier convenience store construction company ensures that clients receive the best value for their investment.
Customized Approach: We take pride in our ability to provide tailored solutions for every project, recognizing that each client has distinct branding preferences and facility requirements. Our design and construction teams work closely with each client to ensure that the final product reflects their vision, aligns with their unique brand voice, and optimizes the layout for maximum efficiency and customer appeal.
Compliance Assurance: We ensure that every project stays up-to-date with local building codes, ADA requirements, and safety regulations. We aim to ensure that all our projects are compliant from start to finish.
Focus on Sustainability: Our team of professionals integrates eco-friendly and energy-efficient solutions into every project we work on. We aim to help clients reduce their environmental footprint while reducing costs when your facility becomes fully operational.
Transparent Communication: We maintain open and transparent communication with all our clients throughout the construction process. Our site managers provide regular updates on the progress of every project, addressing any concerns promptly.
Commitment to Timely Delivery: Our team is committed to meeting deadlines. By practicing efficient project management, we ensure our clients can open their convenience stores and gas stations on schedule.
Comprehensive Construction Services
From the parking lot and outdoor signage to interior lighting, counters and bathroom fixtures, Stovall Construction handles your convenience store project from initial ground breaking to final permitting. Our talented teams create entryways and window designs that keep your visibility high and floor plans that ensure smooth foot traffic. If your older c-store or gas station needs remodeling, we excel at refreshing interiors and exteriors by maximizing space and utilizing existing infrastructure. We tackle floor-to-ceiling renovations with professional attention to detail, and we even take care of general repair work. Regardless of job size, we cover your project with a complete line of comprehensive commercial construction services.
Focused Management Strategies
If you've spent any time on a construction site, you understand the critical importance of coordinating schedules, materials and subcontracting services. Over the years, we've developed a unique set of focused management strategies that keep your project on schedule and on budget. Do you have questions about location or building size? Our solid feasibility studies outline your best options. Are your spending forecasts on point? Our detailed accounting procedures give you a precise picture of all expenditures and accurate cost projections. From initial site prep and framing to zoning compliance and final occupancy permits, we ensure your speed to market with unprecedented quality control and complete management oversight.
Your Partner in Construction Success
You want realistic overviews, open communication and honest reporting from your convenience store construction company, and we're committed to meeting and exceeding your expectations. When you have questions, we're ready with targeted answers. If you have concerns about an issue, we formalize contingency plans and solve problems without sacrificing cost or quality. We listen to your input, work with your ideas and always answer your first call. We leverage our position as leaders in convenience store and gas station construction to obtain the best materials and prices available, and we oversee all subcontracting work. As your trusted construction partner, you have our pledge to provide the highest levels of professional and personal customer service.
You want the very best commercial contractor in the business for your c-store or gas station project. We've maintained our leadership role among regional convenience store construction companies by delivering solid management strategies, the finest building talent and the best materials and prices. Whether you're building from the ground up, remodeling or rebranding, you can always depend on us here at Stovall Construction. Contact our teams today, and let us be your partner in convenience store construction success.
take the next step, contact us
Industry Leading Convenience Store and Gas Station Construction Company
Stovall Construction is a one of the best convenience store construction companies in Texas. We serve our clients in Louisiana, Oklahoma, Texas and are also licensed and registered in 15 other states.
C-Store Construction in Louisiana: New Orleans, Baton Rouge, Shreveport, Metairie, Lafayette, Lake Charles, Kenner, Bossier City, Monroe, Alexandria, and other areas across the state of Louisiana.
C-Store Construction in Oklahoma: Oklahoma City, Tulsa, Norman, Broken Arrow, Lawton, Edmond, Moore, Midwest City, Enid, Stillwater, and other areas across the state of Oklahoma.
C-Store Construction in Texas: Houston, San Antonio, Dallas, Austin, Fort Worth, El Paso, Arlington, Corpus Christi, Plano, Laredo, and other areas across the state of Texas.