Podium structures have been the go-to construction materials since the 1960s. This is because of their high-performing benefits, including long-term durability, low maintenance, and fast-track site erection. They've been used to construct residential apartments, hostels, prisons, schools, and a range of other commercial buildings.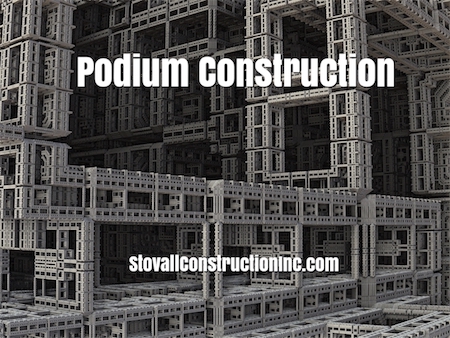 So, what exactly is podium construction? What does it involve? Here's everything you need to know.
What is Podium Construction?
Also known as pedestal or platform construction, podium construction is a type of building characterized by horizontal divisions between an upper tower and a lower "podium." Usually, the podium is made of steel or concrete and then topped by multiple wood frame stories. Common podium configurations include 4 – 5 stories for residential spaces on top of commercial, retail, and parking spaces below
Benefits of Podium Construction
In North America, podium buildings have become increasingly prevalent. With the high cost of steel and concrete and the ever-increasing land rates, contractors and developers are turning to wood designs that come with higher density and allowance for extra rentable square footage as compared to the traditional garden-style apartments. Even better, this method of construction is more cost-effective in terms of labor and materials, allows for design flexibility, less environmental impact, and increased speed of construction.
Some of the benefits include:
Paneling Benefits
Podium construction utilizes panelized walls to save money and time. This is because they have higher tightness tolerance, which helps reduce shrinkage caused by gaps. Since wood is a natural thermal and acoustic insulator, wood paneling can help keep the residential and commercial spaces cool during the summer and warm during the winter. As a result, your monthly energy bill will drastically reduce thanks to this natural insulation.
In addition, wood paneling merges with a lot of interior décor items and colors. It can offer a warm, homey ambiance when combined with the right upholstery.
Perfect for Retail Spaces
Concrete podiums are perfect for ground-floor retail and commercial spaces while giving an entirely different feel of residential spaces above. The use of residential and commercial spaces in one building is an attractive value to many tenants, especially those who are looking for the convenience of amenities. As a result, this may increase the value of your property.
Easy to Install Additional Amenities
Besides the retail spaces, podium design buildings are excellent for incorporating gardens, outdoor pools, and terraces, or an extra parking space.
In some local jurisdictions, they allow up to two stories of construction above grade – if the building has a total of 7 stories. This means a developer can have two or three stories of concrete construction above grade with five other stories of wood supported by the concrete podium.
Before construction begins, it's recommended to work with your team to know what's possible in your jurisdiction.
Sustainability
Wood grows naturally, is renewable, biodegradable, recyclable, and non-toxic, making it an environmentally sound construction material. On the other side, concrete is considered to be America's fourth largest source of carbon dioxide emissions.
Even though there have been measures put in place to reduce carbon in concrete production (such as adding slag and fly ash, wood still has a significant advantage in environmentally-friendliness. In other words, wood for construction is a carbon-negative process that encourages the construction industry's goal for a sustainable future.
Structural Integrity
The engineered beams used in podium construction offer durability and strength in the whole structure for high-demanding applications. This makes the podium-style building just as strong and sturdy as other types of concrete buildings.
An upper wooden podium is also lightweight, making it a perfect choice for areas with high seismic activities where the mass of the building is affected by lateral design loads. Additionally, the inherent flexibility of woods can make it a more forgiving and resilient construction material than concrete. This gives you maximum value for your money, without breaking the bank.
Types of Podium Construction
Multi-story wood buildings generally fall under construction Type III, and Type V with each type subdivided father into A and B. The stories should have different fire-resistance rating requirements. The IBC lists fire ratings for various wall construction types.
Two common podium design structures include:
Multi-Family
In this type of building, a concrete podium slab acts as the structural floor, as well as a transfer slab for the gauge steel frame construction above. Often, the slabs are situated above parking levels and help reduce sound transmission and improve fire ratings.
Single-Family
For this residential structure, the garage floor will be converted into a hollow core floor to increase the living space. The hollow core level acts as the podium slab, which offers reduced sound transmission, high fire rating, and reduced vibrations. Even better, the ceiling surface doesn't need to be removed and is paint-ready
What Code Says About Podium Construction
The International Building Code (IBC), defines podium buildings as two separate structures built on top of one another.
For example, construction Type III-A can go up to 4 stories or 65 feet, while Type V-A is allowed to go up to three stories or 50 feet. However, the addition of the National Fire Protection Association (NFPA's) sprinkler system means that developers have an extra 20 feet in height or another floor.
IBC considers the finished grade of the outside walls to be the lowest point between the property line and the building (6 feet). Therefore, for structural purposes, the height is measured from the beginning of the podium, even though this isn't the true architectural height.
In areas with high seismic activity, the American Society of Civil Engineers (ASCE), requires that podium story buildings should have earthquake-resisting wood lateral systems.
Local jurisdictions on podium-style buildings vary. So be sure to check them out first before you start your podium construction project.
Podium-Style Construction Methods and Costs
Podium slabs are the floor systems that transfer load from a wood or steel frame structure to the columns and walls below it. Podium slabs have specific construction styles that ensure the load-bearing elements align with the substructure below.
Commonly used podium construction systems include:
Post-Tension Cast-In-Place
In this construction method, cast-in-place concrete is poured on-site. Beams and slabs are poured together to reduce the number of joints. This is because joints need constant maintenance, for example, regularly replacing the sealant in the joints may significantly increase costs in the long run. Post-tensioned, cast-in-place concrete are best-suited for construction projects where lifecycle costs and durability are top priorities.
Some of the advantages of post-tensioned cast-in-place podium buildings include:
It's easy to customize the buildings' footprints and shape of the framing since contractors can easily alter the formwork on site.
Better light distribution because the beams are placed after every 20-24 feet instead of 5-6 feet.
Precast Hollow Core Construction
This podium construction is a favorite to many people because it comes with excellent construction speed and provides a safe working platform. Pre-stressed, precast concrete is formed offsite and transported to the construction site. This is especially helpful for projects with limited sites or those that don't allow for the stressing of post-tension tendons.
Some of the advantages of precast hollow-core construction include:
Architectural design can be incorporated into the exterior panels.
Lower initial construction costs thanks to early decision-making and limited formwork.
The construction isn't affected by the weather since the pieces are usually precast indoors.
Faster construction site since the cast pieces are simply shipped to the construction site for erection.
What to Consider When Construction a Podium-Style Structure
Before you start your podium-design project, put the following considerations in mind:
Shrinkage
In constructions where wood bearing partitions and walls support two or more floors and the roof, IBC requires that the contractor to do an analysis ensuring that the wood framing shrinkage won't affect the structural integrity of the building. These include checking the mechanical, electrical, and plumbing systems. For the project to be approved, this analysis should show that the roof system won't be affected structurally. In case it does, it should be the project redesigned to accommodate the differentials.
It's recommended to find a reputable construction contractor since poor structural shrinkage may lead to various problems for the building. Additionally, during the construction process, look out for things like an allowance for expansion caused by heat, non-wood firewall separations, piping, horizontal ducts, as well as cementitious floor toppings.
Tie-Down Systems
For multi-story buildings, continuous tie-down systems come with several advantages over the conventional systems because of their potential of uplift capacities and ease of installation. The only downside to this system is that it's an in-wall system, making it relatively difficult to work with.
Flexible or Rigid Analysis
This involves the use of flexible or semi-rigid diaphragm analysis to find the distribution of the shear walls. There are two types of processes that you can use to classify a wooden diaphragm as flexible or semi-rigid.
The flexible analysis is quite straightforward, but it doesn't reflect on the actual conditions on the site (according to the sheer walls and span-to-depth ratio). This may lead to the underestimation of the interior loading. In the semi-rigid analysis, contractors make use of the rigid parts of the building as leeway for laying out the shear walls.
Two-Stage Design
A two-stage design involves treating the upper wood-frame portion of the building as an entirely separate structure from the lower concrete portion. This process provides an alternative to designing the entire building with the same seismic response, which would mean the upper portion would have a minimum of 30% more forces.
Concrete-Wood Interface
One of the most common challenges during podium construction is designing the interface between the lower podium slab and the upper wood superstructure. For seamless load transfer, the podium slabs should have the appropriate design strength to resist total axial force.
One essential constructability considerations that you should make during podium construction is the installation of post-tension cast-in-place. A lot goes on here, including the post-tension tendons, utilities, drainpipes, block-outs, rebar, additional steel at the top column, raised curbs, and embed plates.
Species and Grade
Knowing the species and grade of the wood used for construction will help make the process much more seamless as it'll prevent limitations such as local unavailability and costs.
Framing Type
Platform framing is probably the most common Type V wood framed structure framing. The double top plates of the wall support the joists.
Another common framing type is the modified balloon framing. During this process, the floor framings hang off the double top plate and are usually used as an alternative platform.
Consider Podium Design for Your Next Construction Project
While people in the construction may see wood construction as a threat to the concrete industry, it's actually the opposite. Podium construction brings together concrete, steel, and wood to create a lucrative market that's quickly gaining popularity over the last recent years – and we don't see it going anywhere soon. For construction convenience and cost-effectiveness, go for a podium-design building.
If you need professional help with your podium construction project, look for a reputable, experienced, and licensed general commercial contractor for top-notch consultation and best results.