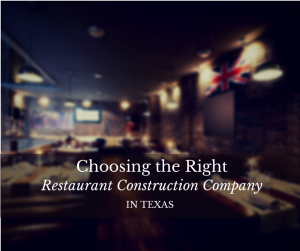 There are plenty of restaurant construction companies in Texas from which you can choose, so how do you know which one is best suited for your particular job? There are some things to keep in mind before you hire a commercial contractor whether you are in a larger city such as Dallas or Plano or even in a smaller rural town.
Specializing in Restaurant Construction
While there are hundreds of skilled general contractors across the state of Texas who hire nothing but the best, most experienced laborers, the odds are that they spend most of their time building homes or perhaps even other commercial structures. While they understand what it takes to plan for HVAC ducts and water lines, they may not be well-versed in constructing a building to suit large kitchen equipment and all of the ventilation it needs. Thus, it is important for you to hire a commercial construction company in Texas that has experience within the restaurant industry.
Communication Is Key
In order for your project to go as planned, it is necessary for you to work with experts in the field who can help you design the right building for your needs. You need to make sure that there is room for all of your equipment, and you will want to make sure that your employees will be able to maneuver in the kitchen without stepping on one another's toes. What's more, it's vital to make sure that your restaurant will have the ability to seat the intended capacity; you want to maximize your floor space while still providing your customers with some privacy.
Understanding the Law
There are plenty of regulations in the food service industry, and many of them have to do with the building in which you prepare the food and house the guests. In fact, the law even tells you how many guests you are able to seat based upon the size of your restaurant. As such, the restaurant construction company in Texas that you choose must be very familiar with these laws. As the project is underway, there will be several rounds of inspections. You don't want to delay your anticipated opening or find out that you won't be able to seat as many guests as you'd planned, so it is best to hire a contractor who is very familiar with the codes and other regulations that are necessary for ensuring a job well done.
Live Out Your Dream
Your restaurant is very important to you. Chances are high that you've saved, planned, and put a lot of work into getting things underway. In fact, you have probably even taken out loans so you can pay the contractor you hire. This is another reason why it is so important to hire a construction company that specializes in building restaurants rather than everyday general contractors; you want to make sure that you can get the most out of all of your hard work as well as your dollar. When you choose a company with experience in constructing restaurants from the ground up, you improve the odds of getting things done the right way the first time around.
Remodeling
If you want to remodel an existing restaurant to fit your individual goals or even if you want to turn a building that wasn't designed to be a restaurant into the new corner bistro, construction companies specializing in restaurants are still the best choice. They can take a look at your space, listen to your ideas, and then envision the finished product. These companies will be realistic and may even be able to help you maximize the space you have available to you.
Opening a restaurant is a huge endeavor and one that is likely a dream come true. It is important to avoid any bumps or hardships along the way, so why settle for a construction company that isn't specialized in building restaurants? If you are putting your livelihood in someone else's hands, make sure that they are the best at what they do.
Stovall Construction has over 40 years of construction experience, including building casual dining and quick serve restaurants throughout Texas and surrounding states. Depend on Stovall Construction to deliver superior service and outstanding construction management strategies to help build your next restaurant. Contact us online or call us at (817) 572-1331.