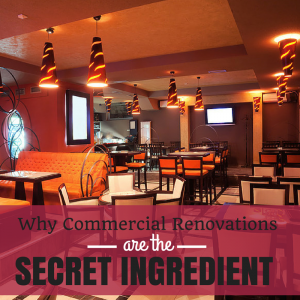 Putting together a recipe for small business success includes smart planning inside and outside your store, restaurant or office building. If your property isn't working with your business plans, it's time to add commercial renovation to the mix. This secret ingredient refreshes interiors and exteriors with smart changes that attract customers, hold down operating costs and keep the cash registers ringing.
Serve Up Fresh Interiors
Familiar surroundings eventually fail to generate customer interest. Tired dining rooms don't inspire appetites, and business clients aren't impressed with dull hallways and rows of cubicles. Regardless of products or services, a property's interior makes a lasting impression. A commercial construction and renovation project refreshes the customer experience with attractive displays, better lighting and improved floor plans. Modern, insulated windows open up interiors and double down as money-saving installations. New flooring and ceiling materials brighten up space with acoustic control that plays well in any business setting. The best commercial remodeling services combine interior design with operational function that improves your property's looks, value and performance.
Mix Marketing and Exteriors
Marketing plays a vital role in keeping your company visible across all media. Advertising costs factor into the budget every quarter. Weigh that ongoing expense against a one-time investment in new signage. The exterior of your business is a powerful marketing tool, so use it to attract attention, promote your brand and convert that first customer contact into a winning encounter. Put a modern face on your property with innovative signs that let you stand out on the crowded retail landscape. A well-designed exterior invites drive-by traffic to stop and shop. Welcome customers with updated entrances and windows that show off your business. An investment in exterior commercial renovations pays off as a permanent addition to your marketing strategy.
Satisfy Consumer Appetites
Encourage repeat business, add new customers, and ensure everyone's satisfaction. You follow this proven recipe for retail success by delivering your best products and services. Today's online world minimizes the importance once placed on location, but appearances still count. Curiosity draws glances through storefront windows, but a professional commercial renovation turns casual interest into second looks. Once they're inside, shoppers enjoy space that's easy to navigate, and clients feel comfortable in surroundings that speak their language. Customers come to you with expectations, and your property's appearance inside and out sets the tone. Satisfy their need for a great experience by serving them in an atmosphere that conveys the pride and confidence you have in your business.
Include Professional Planning
The best retail remodeling plans include input from professionals who specialize in the field. Experienced commercial renovation services provide design talent, quality workmanship and project management. You want to work with a commercial construction contractor who understands the latest retail trends and incorporates them in solid proposals that fit your property and budget. He advises on you everything from energy-saving strategies and on-site security systems to local permitting requirements. Your contractor keeps costs under control, develops reliable scheduling and oversees the job with expert accountability. Effective commercial renovations depend on professional planning, so choose a remodeling partner with a proven track record for success.
Remodeling your business opens up more than new entryways, aisles and dining areas; it unlocks your building's potential for success with a refreshed look that ensures a profitable future. Stovall Construction offers the best commercial construction and renovation services in the area, and we're always happy to lend our expertise to your retail projects. We know how to put together all the ingredients that bring out the best in your property. Contact us when you're ready to take your business to the next level.