When a tenant arrives at their new commercial space, it's rare to find it ready for business.
Whether it is in a shell condition, meaning it has never been occupied before, or a second-generation space – one that has been previously occupied – there are always fixtures to replace, floors to repair, and walls to tear down.
This ensuing construction project is referred to as a tenant build-out.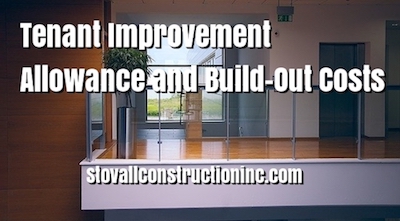 Tenant build-outs – also referred to as leasehold improvements or commercial tenant improvements, depending on if one is in construction, accounting, or real estate – are a fact of life in commercial real estate.
As such, when confronting the need for a build-out, a tenant's first question is not just, "What do I need to fix," but also, "Who is going to pay for this?"
Commercial Tenant Improvements and Allowance
When searching for a commercial space, business owners should scout the market for buildings needing very little renovation or retrofitting to meet their requirements. However, they are not always attainable.
It should come as no surprise when tenants first arrive at their new office, warehouse, or retail space and discover there is much more construction needed than they anticipated.
This is why provisions for a tenant build-out should be negotiated into the lease agreement. The lease should unequivocally state which party is financially responsible for the build-out. This is known as the tenant improvement allowance.
The agreed conditions of the tenant improvement allowance (TI) should prevent any future financial misunderstandings regarding the initial and contingent costs of a tenant build-out.
However, this is not always the case.
Tenant Build-Out Process
The tenant improvement allowance should be a standard component of any lease agreement but, unless tenants have done their homework, it may not be included. It is the tenant's responsibility to ensure provisions for a TI are in the contract and, more importantly, that they favor the tenant for the cost of the build-out.
Tenants need to understand what is at stake regarding the costs of the build-out before they sign their lease agreement. Plus, they need to protect themselves against any unforeseen construction cost overruns or delays that are likely to occur.
That is why the landlord will almost certainly offer one of two choices for the tenant improvement allowance: a turnkey build-out or a stated dollar amount.
Turnkey Build-Out
When included in the lease agreement, a turnkey build-out means that landlords will pay for the renovations themselves. They will ensure the premises are fully prepared for occupancy and that build-out construction is complete. When the tenant arrives, he can "turn the key" and begin business.
The turnkey arrangement can be beneficial for tenants occupying smaller spaces – some suggest 10,000 square feet or less – or where only minor refurbishments, like carpeting or paint, are necessary. However, when occupying a larger space, a turnkey build-out may not be in a tenant's best interest. In fact, it may relinquish too much control to the landlord and cost the tenant more money throughout the lease.
Construction costs are absorbed into the rental agreement so that the tenant pays those costs slowly over time. This means that if the landlord quoted a tenant improvement allowance of $60 per-square-foot and it only costs him $40 per-square-foot, the tenant is still paying the landlord that extra $20 per-square-foot per his lease.
Can you see how a turnkey build-out might favor the landlord over the tenant?
Stated Dollar Amount
This agreement is slightly more agreeable to the tenant, but it still contains some caveats.
A stated dollar amount in the lease means that the landlord will pay a set price for build-out construction, but any additional costs will be the tenant's financial responsibility. Again, this sounds like a fairly reasonable arrangement, but there are still some details that need to be clarified in the lease.
Considerations for Contractors
If the lease states that the landlord is the construction manager on the project, tenants have very little input on whether construction details meet their requirements. Similarly, with a stated dollar amount, tenants have no oversight of the contractors performing the build-out – the landlord has chosen them whether they are the right people for the job or not. Perhaps they are simply friends of the landlord, or they underbid projects and perform unsatisfactory work. Or, maybe the contractor's rate is too high, and the cost overruns exceed the tenant's budget.
The only way to prevent this from happening is for tenants to include language in the lease agreement allowing them to choose their project manager and construction management team. Having this control over the build-out process can almost guarantee that project will meet the budget or come close. At least the tenant will know that a concerted effort was made to bring it in under budget and on time.
Tenant Build-Out Costs
So, what happens if the build-out comes in under budget with the stated dollar amount? Should tenants still be held responsible for money that they, technically, saved the landlord? Should they still be obligated to pay for it as part of their rent?
In this case, the tenant may have negotiated for a discount of some type in the lease agreement, or perhaps a way to apply that money to construction updates in the future. Again, this takes some foresight on the tenant's part, but strategy is one of the most crucial elements when negotiating a lease agreement.
Many build-out details must be included in the lease to protect the tenant's financial security before work begins. For instance:
Location: The cost of build-out construction varies from region to region. Generally speaking, it is higher in the Northeast and on the West Coast than it is in the South and the Southwest. Thus, when negotiating tenant improvement allowance for a build-out, location becomes a consideration.
Cost Per Square-Foot
This is another factor where the tenant needs to do their homework. Cost per-square-foot is the industry standard, but it is essential to know what the average cost is in the region for the type of build-out the construction company will be performing. Also, tenants should have a budget prepared before agreeing to a set sum – they need to know that the proposed allowance will cover all of the build-out expenses. These details need to be stated in the contract.
Cost of Materials and Labor
Equally important is the cost of materials and labor which may fluctuate due to market demands and weather conditions. The cost of fuel can rise seasonally, transportation may be adversely affected suddenly, and some materials may become limited unexpectedly. However, if these considerations aren't included in the lease agreement, they will inadvertently be paid by the tenant.
Miscellaneous "Hidden" Fees
Many tenants may not consider the costs associated with permits, administrative fees, legal fees, and others as part of the build-out, but they should. These items must be accounted for in the agreement, or they will be paid by the tenant.
What Can Be Included in Tenant Improvement Allowance?
Unless specified, the tenant improvement allowance will only cover standard build-out construction costs. A typical build-out might include improvements of:
Flooring
Doors/Windows
Countertops
Millwork
Walls/Drywall
Electrical/Lighting
Plumbing
HVAC
Additional improvements might include demolition and ceiling repair.
While some build-out finishes may include high-end furnishings like special countertops, upmarket windows, or particular types of wood for the doors, these are not standard features of a retail build-out ­- these items might be included in a custom build-out.
There are a lot of steps to conducting a successful build-out and, without an explicitly negotiated lease agreement, a tenant may enter into an unforeseen financial tailspin that they may never recover from.
Get it in Writing!
The key to an efficient build-out is to enter into the lease agreement negotiations prepared. Having a construction budget, a schedule, and a dedicated construction management team is essential.
If the tenant has all of these elements in place before beginning lease negotiations and the construction requirements are defined clearly in the lease, the build-out should proceed worry-free.