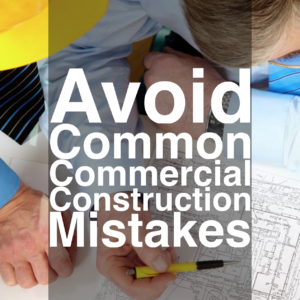 The role of any commercial construction company is to handle a job from start to finish, which then allows the client to take control and grow their business. The problem is that mistakes can occur either before or during such construction, which can end up being costly errors for both sides.

Listed below are some of the ways to avoid those pitfalls:
Establish an Appropriate Budget
Whether it's a project that a retail construction contractor undertakes or one that involves a broader commercial effort, the budget needs to encompass all angles involved. Too often, firms look to offer a lower price by cutting corners, a short-sighted approach that often comes back to haunt them.
The commercial construction company you choose should have the experience to account for likely issues that take place during the course of a project. Like in other areas of commerce, what seems like an inviting lower price might end up costing you in the long run.
Use Trusted Suppliers
One of the ways that your budget can quickly become a disaster is by putting your faith in suppliers that end up letting you down. Having to wait on those supplies can literally shut down your project, which damages your firm's credibility.
In the case of a retail construction contractor, those type of delays can end up reflecting on their client that's expecting their new outlet to open by a certain date. Given the vast scope of this business sector, such bad news figures to stamp the offending firm as one to avoid in the future.
The Importance of Communication
Having a sense of where a commercial construction project is at a certain point can offer a high level of reassurance to a client. By simply establishing a regular flow of communication and checking in with that client, a clear understanding of the current status will be available.
In an era of smartphones and other advanced technologies, a client can be in line to receive daily updates. In addition, they can get a look at the evolution of a project as it comes together through photos of the construction site or pertinent information that might have been sent by mail in past generations.
Handle All Legal Concerns
The adage that the devil is in the details is something that any quality contractor fully understands, primarily because they know the hell that will ensue by not paying attention to them. Legal necessities have to be addressed before any project begins or that effort can be immediately be shut down.
Due to the fact that different communities have different rules in place when it comes to things like permits, the contractor and construction company being used should have experience with that particular municipality. A lack of awareness about these vital areas can cause delays and add to the final cost of construction.
A Simple Choice Made Easy
Stovall Construction is a commercial construction company that's been around for more than four decades. We're licensed to work in 15 states and have established an enviable track record when it comes to delivering on our work.
Our level of integrity prevents us from trying to mislead our clients. That's why many continue to use our services when they need a retail construction contractor or for some other segment of this market. So when you have such a need, make sure to contact us to get things started.