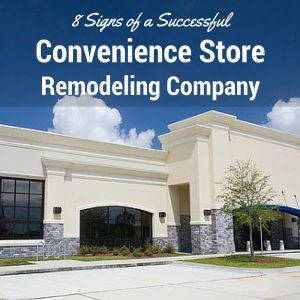 You've made up your mind to upgrade your location with a remodel that refreshes your brand and brings in new business. It's an investment in your future, so you want to choose a commercial contractor who knows how to maximize your return. Before deciding which firm to hire, consider these eight indicators of a successful convenience store remodeling company.
1. Experience With Your Industry – Not all construction companies specialize in remodeling convenience stores, so you want to hire a contractor who understands the challenges of working with this unique type of retail site. You need a firm that can handle gas pumps, coolers and security systems, and you want a company that knows how to adhere to strict corporate and franchise guidelines.
2. Scalable Construction Capabilities – The best remodeling contractor offers flexibility that allows him to scale project plans around your budget and timetable. He identifies cost-effective strategies that work with existing infrastructure eliminating the need for expensive replacements. He suggests money-saving materials that don't sacrifice quality, and he keeps your job on schedule without cutting corners.
3. Specific Site Knowledge – Most c-store remodeling projects don't involve major changes to a building's footprint, but you want to be sure that all modifications meet permitting standards. An experienced contractor confirms the details of applicable building restrictions, set-backs, zoning and ADA compliance before he starts the job, and he knows how to navigate all permitting processes.
4. Focused Design Talents – An important part of your convenience store renovation addresses upgrading exteriors and interiors with a combination of aesthetics and function. You want a commercial contractor who supplies focused design talent that handles everything from outdoor signage and lighting upgrades to foot-traffic friendly floor plans and smart indoor storage.
5. Energy-Saving Expertise – Replacing old equipment is just one line of defense against rising energy costs. An experienced convenience store remodeling contractor is familiar with all types of energy-saving strategies that fit your remodeling budget. His recommendations can include thermal door and window installations, LED and CFL lighting fixtures and HVAC system modifications that incorporate money-saving automated features.
6. A Solid Industry Network – You want the best available teams on your project, and an established commercial firm delivers with a trusted network of local subcontractors and vendors. Your contractor's professional relationships give you access to quality workmanship, the best materials and competitive pricing. If a vendor or tradesman can't perform, your contractor can quickly supply reliable alternatives.
7. Strong Management Abilities – Keeping your job on schedule and budget requires coordinating a variety of factors. A successful commercial construction firm knows how to synchronize vendors and subcontractors so that timetables stay in place. An established contractor controls project costs with accounting practices that keep budgets on target from project pre-planning to job completion.
8. Effective Communication Skills – As the client, you should expect more than progress reports from your commercial contractor. Effective communication runs both ways, so he should always be available to listen to your input and address your concerns. This ensures that you understand all of your options, and it establishes the mutual trust that makes a professional partnership successful.
Hiring a c-store remodeling contractor is a decision that you want to make with confidence. Our experience spans 15 states and more than 40 years with special emphasis on convenience store remodels, renovations and repairs. Contact Stovall Construction today for more information, and let us maximize your remodeling ROI.