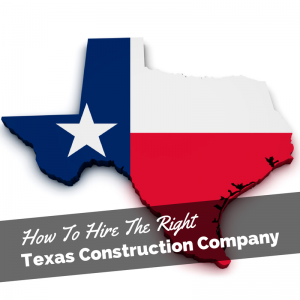 You want the best Texas commercial construction company for your project, but how can you be sure you're hiring the right firm? Finding a qualified contractor for large jobs is challenging. There isn't any room in the budget for errors, so take your time with the screening process, and ask the right questions.
Who Are You Hiring?
A great reputation counts, but take a good look behind that company name. A successful business gladly provides references and examples of previous work. Take a look at the commercial construction company's website for online galleries of finished projects. A reputable company will also post information about its license, insurance and bonding capacity. Talk to team managers about their experience with jobs similar to yours. Ask about issues that might be unique to your project, and discuss available options and solutions. When you hire a commercial construction company in Texas, you need to make the decision with confidence.
What Are Your Service Expectations?
Every commercial project comes with unique requirements, and you want a company that provides multiple services. If you're building a new site, the firm should provide a feasibility study and pre-construction planning. Remodels and tenant improvements benefit from interior and exterior design teams. Framing, roofing, plumbing and wiring involve subcontractors, so you need a commercial construction company that provides comprehensive management services. From safety planning and solid schedule development to detailed accounting, be clear about your expectations. The company should outline what they offer with a cost breakdown for all the services your job requires.
Why Do Teams Make A Difference?
If you talk to a contractor who tells you he can handle all the details of a commercial construction job, admire his confidence, but ask about his back-up plan. You don't want to risk a big project to someone who operates without an extended support staff. When you hire a firm instead of an individual, you're assured of personnel who have a solid history with the company. A reputable commercial construction business has the advantage of established relationships with subcontractors, and you can count on professional teams handling everything from design plans and site prep to final job close-out.
Does The Bid Make Sense?
Budgets make or break commercial projects, so it's important to know your construction firm is on the mark with its bidding process. Contractors expect that you'll solicit several bids, and you expect the firms to be competitive. However, don't base your decision entirely on the figures. If a bid seems too low or high, ask about the numbers. One firm might have innovative, time-saving techniques that hold down costs. The more expensive bid could represent a company's commitment to high-end materials. Be clear about what is and isn't included, and make sure you understand all the details before you sign the final contract.
Are You Comfortable With The Communication?
Commercial construction projects involve numerous phases, and you want a contractor who keeps you up to date through every step of the process. He should listen to your concerns, answer all your questions and explain everything in detail. Are there tax breaks you're not aware of? Can you save money on materials without sacrificing quality? If site or scheduling issues come up, you should be informed right away and be presented with backup plans. From permits and zoning considerations to final occupancy inspections, clear communication makes sure potential problems are addressed and keeps your job on track.
Here at Stovall Construction, we stand ready to answer all your questions. You have our pledge to always provide the personalized service and superior management talent that you expect from one of the leading commercial construction companies in Texas. Let us commit our industry experience of more than 40 years to the success of your next commercial project. Contact us online or call us at (817) 572-1331.