Do you need a general contractor for a commercial building project?
Simple answer: yes!
Beyond their expertise and experience, it's almost impossible to secure financing and get the proper construction permits without a licensed general contractor.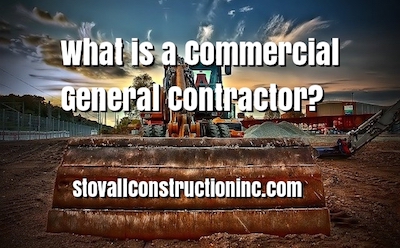 Commercial building projects also come with many risks. A skilled general contractor can help mitigate these risks and protect your investment.
But not all general contractors are equally skilled or best suited for particular projects. Consider the size, industry, and type of the project before hiring one. Here are some more pointers when selecting a commercial general contractor:
What are the Work Requirements of a Building Contractor?
Clients who need to build or renovate their commercial properties – whether an office complex, restaurant, hotel, convenience store, retail store, public building – usually need to hire commercial general contractors to undertake these projects on their behalf.
Prospective building contractors require the following skills, knowledge, and qualities to be successful in their line of work:
Ability to pay attention to detail.
In-depth knowledge of planning and estimation software programs.
Skills in leadership and project management.
Extensive knowledge of the legislative framework that applies to the commercial construction sector.
Technical skills to perform relevant project analysis and evaluation as well as develop effective corrective measures.
Can a General Contractor Do Commercial Work?
Yes, general contractors are trained and licensed to undertake various projects that apply to commercial developments. These include:
Construction of commercial buildings including office complexes, retail complexes, restaurant outlets, convenience stores, etc.
Renovation, remodeling, and addition of commercial developments.
Installation, repair, and maintenance of plumbing and electrical systems within commercial buildings.
Installation, repair, and maintenance of HVAC systems within commercial developments.
Benefits of a General Contractor for Commercial Construction
Hiring a professional general commercial contractor for commercial property construction and remodeling projects comes with the following benefits:
Safety Assurance
Commercial property owners can easily gauge which contractors have a history of credibility by simply checking whether they're licensed and bonded. With reputable general commercial contractors, clients are usually assured of quality and safe results.
Top-Notch Organization
Commercial general contractors typically possess in-depth knowledge of site management and will keep things running flawlessly during the construction, renovation, remodeling, or refurbishing of the commercial project. Their job is to ensure the project is completed in time and as per the clients' requirements. This is only possible through proper project documentation and scheduling.
Efficiency
Seasoned general commercial contractors possess the expertise and experience needed to ensure resources are allocated and used efficiently during the projects. Their problem-solving and budgeting skills ensure that project completion timelines are met and no resources go to waste.
Guaranteed Quality
Whether it's a construction, renovation, or remodeling project, investing in a credible general commercial contractor typically translates to satisfactory results. Most successful contractors know the value that customer satisfaction adds to their reputation, and will, therefore, go every step of the way to ensure their clients get their money's worth. They'll also ensure that the commercial project they're working on is compliant with the updated local building codes and trends.
The best contractors not only possess top-notch construction and remodeling skills, but also the kind of business acumen needed to efficiently make use of the financial and time resources available to them.
What are the Roles of a Commercial General Contractor?
A general contractor performs the following functions during construction, remodeling, or renovation project:
Procuring Human Labor Resources: A general contractor is usually in charge of hiring handymen to undertake the physical aspects of project work.
Resource Procurement and Maintenance: They also ensure the equipment and building supplies needed to complete the project are procured and well-maintained.
Facilitating Sideline Projects: The general contractor also usually takes charge of a host of other site-related tasks, including waste management on the project site, site surveying, engineering, and project monitoring that follows the pre-established schedules.
Facilitating Client Communication: The general contractor is responsible for answering to the client's queries regarding project progress. They should also communicate unexpected challenges and plans to resolve the same.
Facilitating Legislative Compliance: They should liaise with the relevant federal and local government agencies to ensure all licensing requirements are adhered to. They also work with legal consultants to ensure compliance with the relevant commercial law requirements.
How to Become a Commercial Contractor
For most states, the basic requirements for individuals who want to be general contractors include
Be at least 18 years of age
Possess a high school diploma or an equivalent
Be able to work in the country legally
However, you can advance your career by:
Pursuing a Bachelor's Degree Course
Those looking to become commercial general contractors need a Bachelor's Degree certification in Construction Management. The course equips them with the necessary construction skills and techniques in site management, electrical systems, and more – while also sharpening their managerial and business acumen.
Undertaking an Internship
Internships accord prospective commercial contractors the much-needed work experience under the guidance of seasoned, commercial contractors that already know what it takes to achieve success in the field.
Typical responsibilities accorded to commercial contractor interns include preparation of orders and site safety monitoring. Internships also offer individuals the opportunity to increase their employment prospects through networking with those already established in the construction industry.
Earning a Contractor's License
By earning a commercial contractor's permit, you can legally sub-contract work to fellow contractors. The eligibility requirements may vary from state to state, but most usually require applicants to pass an exam that tests the knowledge of relevant business laws and building codes. Private businesses and community colleges typically offer short courses to prepare prospective contractors for such licensing tests.
How Long Does It Take to Become a General Contractor?
A course in Construction Management or a similar course takes about four years. With appropriate training, you can become a fully-fledged general contractor. Earning a Master' Degree takes up an additional three years. However, those who opt for alternative pathways (such as apprenticeship programs in trade schools or general workplace experience) may take anywhere between 3-5 years.
Work with an Experienced Commercial Construction Company
Working with renowned and established construction companies like Stovall Construction can be the gateway to a successful general contractor career. The family-owned company strives to deliver top-quality construction with exceptional customer service.