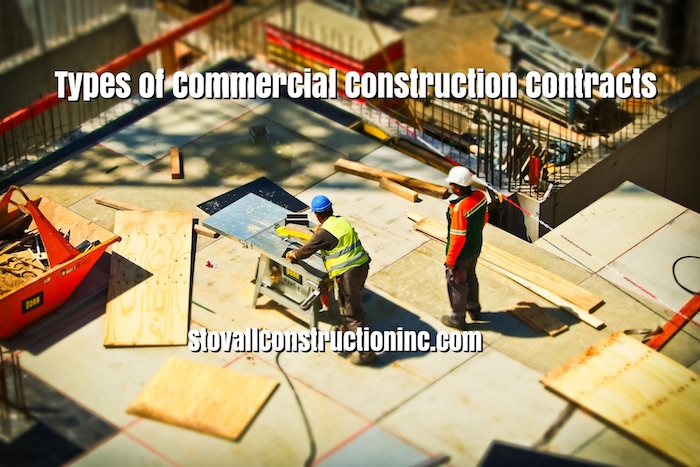 No matter what construction company or who the property owner is, there is always the need for a written contract between the two parties to ensure legal protection in any construction project. Find out what constitutes a construction contract, as well as the different types of contracts that circulate the construction world every day.
What Is a Construction Contract?
A standard construction contract is an agreement between multiple parties – particularly a property owner and a contractor – that outlines the scope of the job, outlines payment schedules/expectations, and protects both parties from sudden breaches and fall-backs during a job.
In order to assure the most secure and protective contract, a basic contract should include the following elements:
Project Description/Scope: A basic description of what problems need to be solved during the project duration. This can include a summary of the project and should include the purpose as well (i.e. remodel for outdated venues, structure reinforcement due to damage)
Contract price: Describes the sum of the projected price of the entire project, as well as additional payments and possible subtractions due to unforeseen circumstances.
Payment schedule: An outline that lays out payment terms, payment due dates, late payment penalties, and invoicing processes.
List of project documents: A record of project documents that can include blueprints, specs, exhibits, and other documents pertinent to the organization of the project.
Contractor and property owner responsibilities/construction laws: An explanation of what each party should expect from each other, like who is responsible for providing certain documents, information and lays out the terms in the liens, claims, and disputes.
If a contractor or owner fails to draw up a professional contract, one or both parties may suffer legal problems and have no way to obtain protection after a dispute. This is why contracts are so invaluable to both the contractor and the property owner.
What Are the Different Types of Contracts in Commercial Construction?
Aside from the standard contractor contract, there are many different types of contracts designed to suit specific projects – versus a "blanket" contract to cover all project types.
Not all construction jobs are created equally – just like not all buildings are designed the same way. From different structures and locations to different square footage and foot traffic values, every building is designed for different needs.
Here are 5 different types of construction contracts available to use, along with the benefits and downfalls of choosing each one.
Unit Price Contract

Unit price contracts are for jobs where the tasks and work are easily measured and priced by quantity – be it time or amount – within a line chart. Each unit price line can include labor, materials, profit for the laborer, and equipment cost.
Unit price contracts are best used for smaller construction jobs, subset projects of a large construction project, or jobs where the steps are repetitive and easily measurable – such as square footage or distance. For instance, a tile laborer could use a unit price contract since they know exactly how much tile would be used, they can measure the square footage or a floor, and use the same types of materials every time they lay tile.
The benefit to unit price contracts is that contractors can draw up specific contracts for each construction trade subcontractor working on a project.
The downside to this type of contract is that it's very time consuming to draw up since a contractor must list each aspect and piece of a job as well as precise pay for the tasks performed.

Lump Sum Contract

Lump sum contracts are the original type of contracts used for building projects. They are considered more of a blanket-type contract, in comparison to the rest of the contracts listed in this article.
Lump sum contracts cover the entire project, including subset jobs, and are calculated by estimating individual jobs with estimating tools and practices. This type of contract is great for construction projects that are easy to define in terms of scope and are not likely to undergo many changes during the project.

Fixed Price Contract

Fixed price contracts are like lump sum contracts, as the contracts are drawn up with a single sum that covers the entirety of the project scope. However, the fixed contract does have a few stipulations – they can be extremely risky for contractors or property owners in certain situations.
For example, if a contractor draws up an honest, fixed price contract based on his past projects and the proper estimating codes, but later there is a significant change in the sum, then either the property owner will end up paying more or the contractor will receive less than appropriate. Since they are bound by a contract, the total sum cannot be changed.

Time and Materials Contract

A time and materials contract is one of the most flexible contracts in the construction world. Hence its name – time and materials contract – this type of contract is drawn up on the estimated hours that a laborer will spend on the project plus the estimated materials cost. As most construction jobs vary in timeline and amount of material usage and waste accounting, time and materials contracts can be changed to fit the final project outcome so that the proper payment will be administered correctly.
Time and materials contracts are great for long-term projects where the project scope isn't clearly defined, or where there may be a need for future additions, but they are not known at the start of the project.
Essentially, a time and materials contract acts as a running and incomplete list for logging labor hours and materials. Using this type of contract allows contractors or property owners to add each additional cost in pace with the project and at any time through the building or renovation process – ensuring the end contract contains the most accurate figure attainable.

Cost Plus Contract

Cost plus contracts are the exact opposite of fixed contracts. They are drawn up with the intention of reimbursing the contractor the cost of materials and labor plus an added profit to the final cost sum. This added profit is usually based on a percentage agreed by both parties and set by a construction company beforehand.
There is a catch for the contractor in this situation, however. The rules of a cost plus contract state that contractors must provide the property owner with documented proof of all expenses in order to receive proper reimbursement. In other words, the contractor must be very organized in their bookkeeping in order for this type of contract to work in their favor.
Design-Build and Building Contracts: What's the Difference?
There is a difference between a design-build contract and a regular building contract. Everything depends on what the property owner wants, and how many companies they wish to deal with.
A property owner has a choice to hire a building design firm and building contractors separately or within one, single company. The choices look like:
Design-Build Contract
A situation where the property owner has decided to hire one company to both design and build/renovate their project. Only one contract exists between the designer, the contractor, and the property owner – and they are all responsible for each other for legalities and disputes.
Traditional Construction Contract
A situation where the property owner hires separate entities for both the design and building of their construction project. Here, there are two different contracts written – one for the designer and property owner and one for the contractor and the property owner. The designer and contractor have no obligation to each other, as they are not in a binding contract and can break connections at any point in time.
The danger of using a blanket contract for all commercial projects is that it may not be specific enough for the project at hand. Therefore, getting more specific about the scope of the job, the problems that the contractor will solve for the property owner – down to the timelines and legalities – can benefit both the client and the project manager. The more detailed a contract, the fewer questions and (hopefully) disputes both parties will have in the long run.