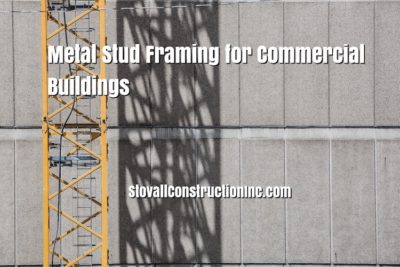 Metal stud wall framing, also known as light-gauge steel framing, is an alternative to wood framing and has been standard in commercial construction in the US since the 1950s. Although each method has its plus points, metal stud framing has several aesthetic and functional advantages that make it a popular choice over wood stud. Because metal is not as pliable as wood, metal-framed walls are straighter and have a more solid surface, allowing for a smoother finish.
Application of Structural Framing Commercial Buildings
Structural framing is the construction of planes and walls using steel components. Metal stud framing has two major components – the stud and the track. For load-bearing walls and for structural applications like exterior walls, heavy gauge metal studs should be used. However, non-load bearing structures such as partitions, half walls and interior walls can be built with metal studs of a lighter gauge.
The framing techniques that are used to fit metal studs are similar to wood construction, and the metal framing studs are available in similar dimensions to wood studs. Usually, metal studs are fastened with screws. There are also fixed clips that can be used to give contractors more options for bypass framing. In places where seismic activity might be a problem, contractors often use deflection connectors. These allow for a stud wall and substrate to move independently. Stiffening plates are installed on openings to strengthen the connections.
Prices of Commercial Metal Stud Framing
Installation of metal studs in an average 2,000 square foot commercial space costs anywhere from $19,000 to $25,000. The main reason for this is that the prices of steel fluctuate with time resulting in the cost of material rising or falling.
No matter what happens in the steel market, the costs of labor remain fairly constant at $5 – $10 per square foot. The project location, the complexity of the design, and the fluctuating steel market are the three main factors that determine your framing budget.
What's more? All metal studs have some amount of recycled steel. This means that most studs contain enough recycled material to give Leadership in Energy and Environmental Design (LEED) points. Collecting LEED points is a major concern for commercial construction work. Because steel can be recycled, many contractors sell waste from metal stud framing projects to recycling plants or back to steel manufacturers, further reducing costs as a result.
The costs can be broken down as:
Price estimation by size: With steel studs, size is not really a factor in the cost. Because the studs are manufactured hollow, it requires a negligible amount of extra steel to produce a 2×2, 2×4 or 2×6. No matter the thickness of the wall, the labor costs stay constant.
Price estimation by steel gauge: Although the labor costs remain constant, the costs of materials do not. When the price is estimated by the gauge of steel used (the thickness of the metal), the cost is $2 – $5 per square foot. Most load-bearing walls require 16 or 18-gauge studs and interior walls are built using 20 or 25-gauge metal studs.
What Do Contractors Charge For Commercial Metal Stud Framing
Many contractors work out their rates for commercial projects per linear foot when quoting the total cost. Clients can expect to pay between $5 and $10 per square foot of the project or $10 – $30 per linear foot. Normally, the larger a project is, the lower the cost per unit. The building type is rarely a factor when quoting labor costs, but the prices of materials vary greatly when it comes to special considerations like thicker steel gauge, multistory constructions and thicker walls.
Is Metal Framing Cheaper Than Wood?
There was a time when wooden studs were the most popular studs used in framing construction. Today, you will be hard pressed to find any new construction that uses them. What changed? The following are some of the reasons why most new commercial contractors have made the switch to metal stud framing, and why they are more expensive than metal stud construction:
When exposed to moisture, wood could rot or warp.
Wood is more expensive than metal stud framing.
Wood studs require a lot of specialized skill to install.
Commercial stud framing using metal has several advantages over wood that also make it a more cost effective option. Steel studs do not warp, and are immune from water damage, attack from termites. Steel is also friendlier to the environment as it does not require the cutting down of trees.
Is metal stud framing the future of construction? Probably. As supply of quality wood continues to dwindle, and manufacturers find new solutions to the limitations of steel, the advantages of metal stud framing will be even more apparent.
Metal Stud Framing Details – An Example:
The best way to show metal stud framing in action is through an example. The example below is the build for a basic non-load-bearing wall in a basement, running perpendicular to overhead joists.
What the example shows is how important quality construction is for a commercial structure. For this reason, every metal stud framing project requires the services of an experienced contractor that is capable of carrying out the job with the highest level of precision.
1. Installing the Bottom Track
If vapor barriers or wall insulation are required for foundation walls, they are installed before framing starts. The floor track is cut to its proper length, first by cutting flanges with snips. One of the flanges is then bent back, allowing the track web to be cut.
2. Installing the Top Track
The frame's upper track should then be installed parallel to the lower track. This is most easily done by utilizing a stud that is plumb-adjusted for positioning of the upper track.
3. Cut the Studs
If it is a small project, the metal studs are cut to size with aviation snips. For larger jobs the studs can be cut with a chop saw or circular saw. However, this process produces a large shower of sparks, a lot of noise and plenty of smoke. For this reason, this step requires eye and ear protection if power tools are used.
4. Install Studs
Installation of the studs involves making sure that they are all plumb and aligned to keep knock-out openings straight. The first studs are mounted by first inserting into the top and bottom tracks. The studs are then clamped with C-clamps to the track and the bottom of the steel stud secured with No.8 self-drilling screws.
5. Install Drywall
Drywall installation for metal studs is really no different than for wood framing, although it can take some practice to make sure the screws bite properly into the steel. Applying heavy horizontal pressure with the drill as you drive the screws will help.
How Metal Stud Walls Are Constructed
Non-structural or non-load-bearing metal stud walls are not intended or designed to bear any form of axial loads. These loads include elements that contribute to the integrity of the overall structure such as roof rafters, trusses, floor joists or ceiling joists. These types of walls are, however, built to withstand the dead weight of typical wall finishes like plaster, gypsum boards or other similar finishes, as well as offer resistance from the normal transverse loads of the structure. The lateral loads that non-load-bearing walls can carry should not be more than 10 lbs. per square foot.
The light-gauge steel framing used for many commercial interior partitions is available in a variety of thicknesses, finishes, shapes and sizes. Each component of a metal stud wall has a particular function in the overall wall assembly. Picking the right size of the components depends on how the framing members are spaced as well as the height of the wall.
The stud spacing for typical commercial interiors is one of either 12″, 16″, or 24." Other things to consider when selecting spacing to use for metal studs in wall construction include impact resistance, the makeup of the wall finish and whether the finish is applied to one side of a wall or both. Generally, the interior walls of a commercial public space like a restaurant or store need to be more resistant to impacts than those of private offices.
Metal Stud Framing For Door Openings
When you work with metal-studded walls, installing openings for doors or windows is simple:
The first step is picking where the door is to be installed on the wall. It should be located at a point that is most natural and functional in relation to the rest of the room. There should be plenty of allowance to open the door without obstructions.
Take measurements of the door to be installed, including the frame. Write down the measurements. You should also measure the location of the wall from the first step to account for the entire wall opening.
With an electronic stud-finder, the studs are located in the location earmarked for the opening and each stud is marked. Next, the door is moved to the left or right to have it centered between studs.
Using a hammer, the drywall or sheetrock between metal studs is knocked out. The studs that should be removed to make way for the door are then removed. Using a level, the height of the opening is marked on both jam studs.
Header braces are then installed with four number 8 framing screws / studs on each clip on the jam studs. The header is then set into header clips or braces which are then attached with four more No. 8 screws. Cripple studs are then installed 12 inches from center using 4 screws per cripple stud.
Next, a 2 by 4 is ripped to size for fitting into the new metal frame's track in order to form a fitting for the wood where the door is to be fitted in the opening. The door is then twisted to ease it into the opening. The frame is then attached to the opening and adjusted with repeated opening and closing.
Conclusion
For commercial properties and industrial applications, metal stud framing offers the basis for a building's structure. Metal studs are not only stronger and more environmentally friendly than wood, they are also capable of supporting load-bearing walls while giving a commercial building its overall design.
Metal stud framing is versatile, working for ceilings, soffits, interior walls and external walls. As the basic skeleton over which most new commercial construction is built, it is an essential part of a building project.