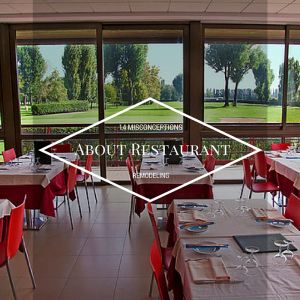 As the leading restaurant remodeling company here in Texas, Stovall makes sure that our clients always know what to expect when starting a new job. If you're thinking about upgrading your location, don't let these 14 misconceptions about restaurant remodeling stand between you and a successful project.

1. Any Contractor Can Do It – Restaurant remodeling requires an industry knowledge that covers everything from kitchen equipment to local health codes. You want a construction contractor who knows the territory.
2. You Need a Designer and an Architect – A full-service commercial contractor provides the talents of design and engineering teams. With one firm handling all job details, you enjoy lower project costs.
3. It Only Takes a Few Days – Talk with your contractor about scheduling so that you can plan ahead for downtime. An experienced builder manages a commercial construction job so that it finishes up on time.
4. Walls Have to Go – It's tempting to open up space, but tearing out walls requires reworking plumbing and electrical systems. Save the expense, and let your contractor's design team turn plain walls into interior accents.
5. Only Front of House Counts – Back of house operations always benefit from upgrades. A contractor who specializes in restaurant remodels increases efficiency, safety and employee satisfaction in kitchen and storage areas.
6. Codes Never Change – Don't assume that zoning, building and permitting codes haven't been modified since your last construction project. Depend on your contractor to make sure that you're in compliance.
7. It's OK to Reuse Old Equipment – Think twice about recycling old equipment. The remodeling process is an opportunity to upgrade energy efficiency, and it's a perfect window for moving heavy fixtures in and out.
8. You Can't Go Green – Save on electricity with solar panel arrays. Keep dining room temperatures comfortable with electrochromic window panes. Ask your contractor about green building ideas that save energy and money.
9. Energy-Efficiency Is Too Expensive – Investing in EnergyStar equipment and reworking your HVAC system can be expensive, but both strategies add up to substantial long-term savings. Thermal windows and vestibule entrances make a big difference too.
10. The ROI Isn't a Sure Thing – Never underestimate the power of a restaurant makeover. Updated exteriors and interiors generate new interest that brings in the crowds and pays off in increased covers and busier tables.
11. Over-Building Is OK – Balance what you want with what you need. Expensive flooring and dramatic entryways look good on paper, but over-building can quickly turn an affordable makeover into a budget-buster.
12. Under-Building Saves Money – You can save on cheap materials and fixtures, but inferior quality doesn't convey your brand to dining customers. Your contractor can help you stretch tight budget dollars.
13. Remodels Don't Need Pre-Planning – Regardless of size, your restaurant upgrade is a commercial construction project. You need to work out design details, decide on materials and develop a solid schedule. Pre-planning makes it all happen and keeps everything on track.
14. You Can Manage the Job – You'll need to line up trusted vendors for the best pricing, coordinate schedules between subcontractors and deal with permitting regulations and processes. Most clients prefer to leave project management to their commercial contractor.
Whether you're undertaking a complete remodel or planning on renovations and repairs, you can depend on Stovall Construction to make your project a success. We're proud of our solid reputation as the leading restaurant remodeling company in Texas, and we're always ready to serve you with our best. Contact the teams at Stovall today.