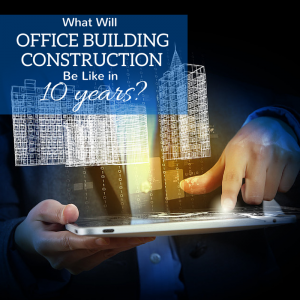 A decade in the business world can be an eternity, given the many changes that take place during that time with respect to areas like technology, trends and the personnel entering the workforce.
When it comes to office building construction, looking into the future can sometimes be a risky proposition, since what looks good in the present day might look dated by the time those 10 years conclude. That's why it's important to have office building construction companies like Stovall Construction Inc. available to grasp the integral concepts that will remain relevant during this time frame.
More Environmental Awareness
Sustainability has become one of the keys for office building construction companies to consider and encompasses a number of different areas. One is constructing the building with the environment in mind. Since most companies work during the daytime hours, energy costs can be reduced through building that emphasizes natural lighting.
That's best expressed by building glass structures that let the ample sunlight of the Southwest beam in and make the bottom line look better. In addition, constructing atria where such lighting is evident also helps with the overall ventilation through an HVAC system that targets customized climate situations.
Also, the improvement in construction techniques means that an office construction company such as Stovall Construction can put up buildings that last decades longer than those whose lifespan was previously 50 years.
Employees Can Be Anywhere
One of the key changes that's taken place during the past few decades is that the explosion in information and mobile technology now no longer chains people to a desk for eight hours every weekday.
Given that fluidity, an office building construction company needs to take into consideration the fact that some employees might rarely, or even never, set foot in their company's office. Knowledge like that will ultimately play a large role in how office building construction takes shape.
That's because making the best possible use of its real estate is just one way a company can watch its bottom line. There's no sense creating space that isn't used, so getting a sense of the future is vital.
The Hybrid Work Environment
Another change is the idea that each person will work by themselves within the confines of either their office or their cubicle. However, when crafting the proper solution, companies need to juggle the benefits and downfalls of such creations.
For example, by opening up the office to create more interaction, the ability to develop more teamwork is possible. That's because greater communication fosters new ideas and information that can be gauged to see if it's something that should be looked into further.
However, on the flip side, such open communication may result in more distractions or cause for worker productivity to diminish
That's why a hybrid work environment should be given strong consideration by a company, since not every situation will fit neatly into what type of office is ultimately built. On some occasions, interaction is necessary, while in others, focus and concentration are the key components that necessitate more secluded surroundings.
Old Fashioned Still Works
One key factor to remember is that there will always be a need for direct communication, especially when it involves a company and its clients. The latter wants to be able to see the people who are working for them, and thus, they aren't too concerned about what new trends may be coming in office building construction.
Therefore, a mix of old and new, coupled with the flexibility to adjust as circumstances dictate, is what good office building construction companies like Stovall can offer their clients.
The Company You Need
At Stovall Construction, the combination of an exemplary reputation and extensive experience in offering a wide range of services makes us the best choice when selecting an office building construction company.
We allow you to map out what you want, while we offer helpful advice when it comes to the more technical aspects of any proposed construction. With prices that are competitive, we can work within your budget.
We've been doing it this way for more than 40 years, so we have a good pulse on the overall market and what works. We know that our clients demand the very best and that's what we give them, so contact Stovall Construction when you're looking for a quality office building construction company.