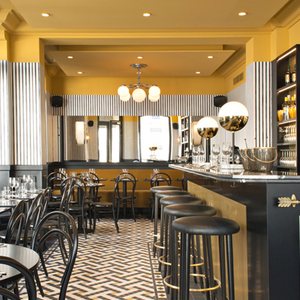 Restaurant & Diner Construction Services
The prospect of opening up a restaurant or diner brings with it different challenges and concerns that are best tackled before forging ahead with either the restaurant or diner construction. Not taking these matters into account leaves open the chance that a project will have to be put on hold or ended because of oversights along the way.
Knowing The Differences
Restaurant construction designs should have a particular theme in mind, unless the business is part of a chain that already has set standards in place. What type of food is being served, whether or not it's fast food, fast casual or an elegant sit-down restaurant are questions that will help guide the team doing that restaurant construction when it comes to enhancing traffic flow.
Of course, diner construction will inevitably lean more toward the casual side, given the fast-paced style that's made them an important part of the American landscape. While some iconic diners may undergo a simple renovation, others seek to begin by either evoking nostalgia or going in a different direction with a modern take.
Such wide variances are why it pays to work with a company that has both the experience and flexibility to adapt to a client's particular vision. These firms handling either your diner or restaurant construction know that different-sized structures are a fact of life, which allows them to tailor their designs to your vision.
Looking At The Big Picture
Yet the reality for both restaurants and diners is that focusing strictly on the inside, while important, will ultimately be a short-sighted approach. That means that the outside has to deliver a reason for someone passing by to stop in, which is accomplished by aspects like signage that captures the attention of the intended consumer or lighting that either makes clear that an establishment is open or that it offers a safe environment.
Key Nuances
One of the most prominent differences for diners as opposed to traditional restaurant construction designs is the presence of a counter to eat at, in lieu of sitting in a booth. While it may not be present in every single establishment that falls under the umbrella of diner options, it's one that people have come to expect over the years.
The fact that diners are geared to serve people as quickly as possible means that designs have to encompass the ability for both customers and staff to have clear lines of traffic available. By doing this, orders are expedited as quickly as possible and the level of organized chaos is kept to a minimum.
The amount of time that restaurants and diners are operating also plays a role in the construction process. The reason stems from the simple fact that many diners are open around the clock, while a restaurant may have limited hours. That design needs to make sure that the proper amount of electrical capacity is in place.
Choosing Right
In the end, whether you're looking for restaurant construction or diner construction, the best decision to make it to go with the professionals at Stovall Construction. We've got nearly a half-century of experience behind us and promptly tackle everything from restaurant construction designs to actual construction. Contact us today at 817-572-1331 or fill out our online form.