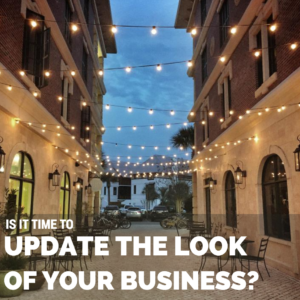 The concept of change is something that occurs on a daily basis in all facets of society, yet for some businesses, the idea can be met with differing levels of reluctance. The reasons stem from notions about not wanting to mess with the success a company is currently enjoying to a lack of funds to employ the services of a commercial remodeling company.
 Some businesses might simply be unaware of the clear signs that come about when an update becomes a virtual necessity. Listed below are some things that make the decision to work with a commercial contractor the best course of action:
Image is Everything
Even if the cash flow is consistent, not bothering to update an outdated look can pigeonhole a business as behind the times instead of cutting-edge. While any commercial construction company can deliver a flashy update that includes all the bells and whistles, sometimes a little tweaking might be the only thing that's required.
Customer Comments
The customer is always right and when they start making comments about the need for a business to adopt a fresher look, it's always wise to pay attention. In some cases, the narrow profit margins demand staying ahead of the game, since ignoring such remarks could set the stage for a company to simply become an afterthought.
A Dip in Employee Morale
While a customer may only pop in periodically, most employees remain inside a business. That means that anyone that's been with a company for any length of time has seen the same look over and over, which has a way of sapping their enthusiasm. Working with a commercial remodeling company to change things up might shake those employees out of their doldrums.
A Drop in Employment Applications
Getting the very best people to work for a company is a standard goal, but if those potential applicants get a negative vibe from the surroundings, a company might end up losing a quality candidate. A dated look, cramped surroundings or just the impression they get from employees can serve as a turn-off about working at such a place.
Emerging Space Constraints
What used to work just fine has a way of changing, especially for a company that continues to grow. Eventually, finding a way to maximize the available space means that a renovation should be on the horizon. That can mean simply making it easier for employee interaction to take place can be a central component of any changes made.
Potential Health Concerns
Just because a business doesn't see any immediate damage being done to their bottom line isn't a reason to ignore the idea of bringing in a commercial construction company. In some cases, dangers like the presence of asbestos or other harmful toxins in the air space need to be addressed.
Rising Energy Costs
The idea of getting a better handle on fixed costs like utilities can be an inviting reason for a business and is something that any experienced commercial contractor handles on a regular basis. That means things like updating HVAC units, switching to LED lighting or simply creating more natural light can make a company's balance sheet shine.
Choosing the Veterans
When a Texas business chooses Stovall Construction as their commercial construction company, they're getting a firm that's been around for over 40 years. Over that time, the role of a commercial contractor has evolved, yet our status as a commercial remodeling company to trust hasn't changed. So for any commercial renovating project, make sure to choose Stovall. Contact us today.