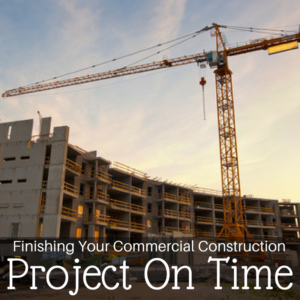 The success of a commercial construction company can be predicated on a number of different factors, with the most pertinent likely being the ability to finish a project according to schedule. Failure in this area is an indication that a firm's construction project management abilities are lacking, which can be an ominous sign for its future.

To avoid that fate, listed below are eight ways that adept construction planning can help choose a commercial contractor that meets deadlines:
Choosing Wisely
Finding a commercial construction company that not only has experience in the field, but also possesses a knack for getting their project done on time can exponentially reduce the level of concern for a firm. That's because the commercial contractor that's been selected has a reputation for choosing the right people to handle all aspects of the job.
Doing Homework
The adage of failing to plan is a plan for failure is very true in this instance, which is why good construction project management will always make sure that this is addressed. What's involved with construction planning encompasses much more than hiring the right people. It involves making sure that things like obtaining the proper permits or scheduling regular inspections are factored into any schedule.
Taking a Wide Look
While some projects can be fast-tracked, one of the best guarantees of finishing on time is to plan far enough in advance to smooth out all potential roadblocks beforehand. Getting a project going during slower periods of the year will ensure that the contractor that's chosen is the best available and the materials needed for construction won't be caught in some supplier's backlog of orders.
Assessing the Materials Involved
In some cases, materials that will be used for the project will require an extended period of time before they arrive, regardless of the time of year. Being aware of such scenarios will allow for the proper scheduling to take that into account and look for possible alternatives to avoid being held hostage by needed items that haven't arrived.
Teamwork between Contractor and Designer
The evolution of a project from design to construction can sometimes be delayed because of conflicts over budget or other factors. However, if the commercial contractor and designer are working in tandem, such issues can usually be hashed out much more quickly because of the ability of each side to voice their concerns.
Handling It All
Having to merge different units together for a construction project is fraught with danger since different methods of the operation may end up clashing. That's one reason why selecting a commercial construction company that handles all areas involved can eliminate the problem, primarily because everyone is on the same page.
Clear Communication Channels
A free flow of communication from all interested parties is a cornerstone of construction planning. When this is in place, there's no confusion that leads to mistakes or accidents, which can wipe out the ability to meet deadlines. Instead, a clear understanding by all parties has been established.
Establishing Responsibilities
Within that communication, the creation of a clear understanding of the responsibilities for each area is firmly established. The end result is a finely-tuned construction project management, where professionalism is emphasized and the embarrassing spectacle of finger-pointing to deflect blame is avoided.
Your Best Choice
Stovall Construction is a company that checks all of the above boxes, so for your next commercial construction project, go with the pros at Stovall Construction. Contact us today.